Dabur India Limited ("Dabur" or the "Company") is the fourth largest FMCG Company in India with Revenues of over Rs 7,073 Cr. The Company operates in key consumer products categories like Hair Care, Oral Care, Health Care, Skin Care, and Home Care & Foods.
Leadership Position
Dabur Honey – 75 % market share
Dabur Chyawanprash – 65% market share
Dabur Hajmola – 60 % market share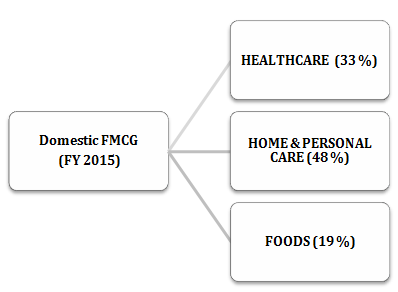 WHAT'S DRIVING THE STOCK
Well Diversified Business Mix
A well-diversified product mix makes Dabur's revenue and profits stable across business cycles and seasons. The company's product categories include
Consumer Care Business– Health Care, Home & Personal Care (HPC) and Food verticals which accounts for 66% of consolidated sales

Healthcare – vertical comprises Health Supplements, Digestives, OTC and Ayurvedic Ethical Products.
Home & Personal Care – comprises Oral Care, Hair Care, Skin Care and Home Care (Air Fresheners, Mosquito Repellents and Toilet Cleaners)

International Businessincludes Dabur's organic overseas business as well as the acquired entities of Hobi Group and Namaste Laboratories LLC. This vertical account for 31% of Dabur's consolidated sales.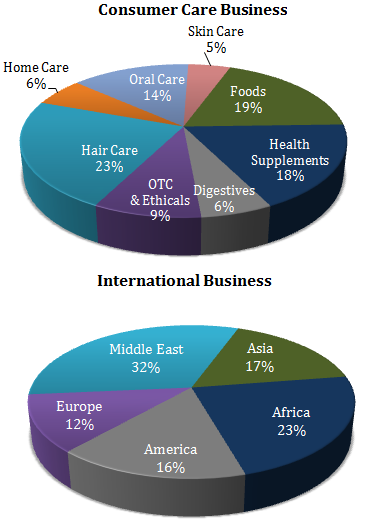 Presence in Niche Categories
Dabur India has a strong presence in niche product categories and has differentiated its position as a natural and herbal product provider in all segments (hair care, oral care, skin care, home care, health supplements, and digestives). The company's strong portfolio of brands includes Dabur Chyawanprash, Real (juices), Fem (bleach), Honey, Meswak, and Dabur Red.
Brand Portfolio
Healthcare
Health Supplements,
Dabur Chyawanprash, Dabur Honey and Dabur Glucose
Digestives
Hajmola and Pudin Hara
OTC and Ayurvedic Ethical Products
Dabur Lal Tail, Honitus, Janam Ghunti, Dashmularishta, Ashokarishta and other Ayurvedic medicines
Home and Personal Care
Oral Care
Dabur Red, Meswak, Dabur Babool, Dabur Lal Dant Manjan
Hair Care
Dabur Amla, Vatika Enriched Coconut Hair Oil and Dabur Almond Hair Oil
Skin Care
Fem, Oxylife and Gulabari
Home Care
Odonil, Odomos, Sanifresh
Foods
Juices
Real fruit juices
Revival in Consumer Demand
A revival in consumer demand is likely to be driven by a combination of the below factors:
Increase in disposable household income
Growing demand for ecommerce for purchase of goods due to convenience factor
Increasing demand for premium products
Increasing penetration and rising consumption among rural consumers
Evolving lifestyle and greater awareness of brands leading to conversion from unorganized to organized
Expanding female workforce and nuclear families
Growing awareness about health care and hygiene
Frequent New Product Launches
Keeping pace with the changing consumer preference, the Company is making efforts to tailor its existing products and launch new products to capture the share from younger audience.
In FY 2015, Dabur launched the following new products in India:
Wearable mosquito repellent products like wristbands and patches under the brand Odomos, besides introduction of Odomos in a roll-on format,
Non-sticky coconut hair oil – Dabur Anmol Coconut Hair Oil with Jasmine
Ayurvedic therapeutic hair oil Dabur Keratex
New launches in International Business includes  Miswak Gold Toothpaste, Dabur Herbal Sensitive Toothpaste, Miswak Mouthwash, Dermoviva Facial Cleansers and Scrubs, Vatika Dermoviva Soaps, Fem Halawa and ORS Monoi Oil range.
Expansion in Distribution Network
The Company has made big efforts in establishing a distribution network in the less developed regions of India (reaching 44,128 villages in March 2015 from about 14,000 in March 2011). The Company plans to increase its coverage to 50,000 villages by FY 2016 and 60,000 villages by FY 2017.On the urban distribution front, the Company expanded its network to over 87,000 outlets from around 49,000 in March 2015.
WHAT'S DRAGGING THE STOCK
The Threat of Patanjali Ayurved
Patanjali Ayurved is the newest entrant in the FMCG sector with over 350 products including toothpaste, shampoo, chywanprash, biscuits, juices, hair oils, skin cream products etc. Patanjali has made an entry with a bang and has in very quick time crossed Rs. 2000 Cr in revenue. As per a report published by IIFL, Patanjali could report revenue in excess of Rs. 20,000 Cr by FY 2020.
This could certainly have disruptive effect on Dabur and other FMCG companies. Patanjali is on a sales push and is planning to make its products available at 2 Million stores by end of 2016 from the current ~ 200,000 stores (that's a 10 times growth). Further, Patanjali was found and is headed by the immensely popular yoga guru Baba Ramdev, which gives its products a strong brand recall and great advantage in marketing.
Threat of Other New Entrants
Over the last decade, the Indian FMCG industry has been dominated by few established players such as Colgate, Britannia, Procter & Gamble ("P&G), and Marico. As Dabur expands its product portfolio in hair care and oral care, it will face an increased competitive threat from global players such as Procter & Gamble, Unilever, and Colgate.
Counterfeit Consumer Goods
According to KPMG Report – Sell Smart, July 2015 – fake consumer goods are growing faster than the overall consumer products market. Counterfeit and smuggled products now account for more than a fifth of the FMCG market in India.
Lack of awareness among consumers and incapability to differentiate between genuine and fake goods act as a major risk for the FMCG companies. Some of Dabur's brands that have been copied in the past include Dabur Gulabari, Dabur Lal Danth Manjan and Dabur Amla Hair Oil.
Changing Consumer Needs
Rapidly evolving consumer needs, tastes and preferences require companies to be proactive and innovative to sustain its growth and market share in India. Categories like food, personal grooming and baby care require huge investment on R&D, innovation and data to better understand and serve consumers faster than their competitors.
About Author