Current Price: Rs. 555.05
Disclaimer: I gave a buy call on this stock on 29th February 2016 on the Union Budget show on BloombergTvIndia
Indian Agrochemical Sector – India is the fourth largest producer of crop protection products globally, after the United States, China and Japan. Exports account for ~50% of the total production of agrochemicals in the country.
Indian agrochemical sector is supported by following strong growth drivers:
High Potential Demand: Current consumption of crop protection products in India stands at 0.57 kg/ha compared to the world average of 3 kg/ha.
Availability of cheap labor and low processing costs.
Government guaranteed minimum prices: For a majority of crops guaranteed prices have increased by 30-110% in the past four years giving thrust to rural incomes.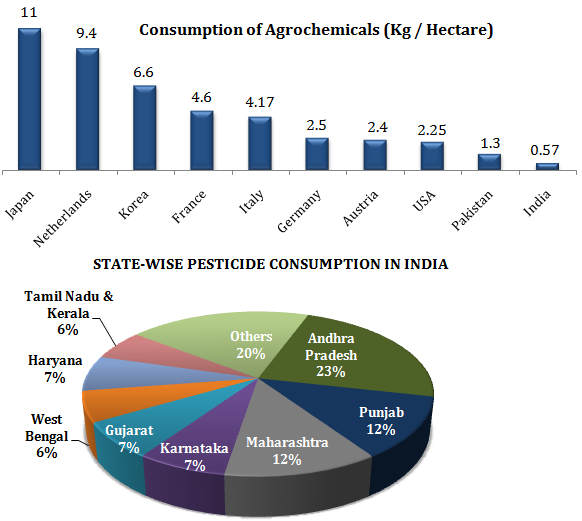 Indian agrochemical industry is largely dominated by insecticides which form about 65% of share of the industry followed by Herbicides, Fungicides and Others constituting 16%, 15% and 4%, respectively. Globally, herbicides constitute about 44% of the industry followed by fungicides at 27%, insecticides at 22% and others at 7%.
Herbicides share in India is quite low at 16%, versus ~ 44% globally.
Union Budget 2017– The agrochemical sector is expected to gain from 28.5 lakh hectares to be brought under irrigation and 23 projects to be completed by March 2017 for which Government has allotted Rs. 17,000 Cr. Also, the Government has allotted Rs. 9 lakh Cr. for agriculture loan to farmers and Rs. 87,000 Cr. to rural sector.  Crop Insurance and higher farm credit will strengthen the farmers spending capacity and boost usage of better quality inputs such as agrochemicals and seeds.
ABOUT THE COMPANY
Dhanuka Agritech ("Dhanuka" or the "Company") is engaged in manufacture of a wide range of plant protection agrochemical solutions. The Company has technical tie-ups with 4 American, 5 Japanese & 2 European Companies. The Company has three manufacturing units located at Gurgaon (Haryana), Sanand (Gujarat) and Udhampur (J&K).  The Company is setting up its fourth plant in Rajasthan which is expected to become operational by Q1 FY 2017, at a capex of ~ Rs. 60 Cr. The Rajasthan plant will have a capacity of 25,000 KL and is expected to generate revenues of ~Rs 500 Cr. [As per management expectations]
WHAT'S DRIVING THE STOCK
Well Diversified Product Portfolio
The Company has a strong product portfolio of over 80 brands with 100% domestic sales. The Company's products comprise insecticides, herbicides, fungicides and plant growth regulators (PGR). The Company is a market leader in the insecticides segment with 45% market share.
| | | |
| --- | --- | --- |
| Categories | No. of Products | Key Products |
| Insecticides | 35 | Media, Dunet, Caldan, Omite, Aatank, Adfyre, Brigade, Bombard, Dhanpreet |
| Herbicides | 19 | Targa Super, Barrier, Craze, Qurin, Noweed, Weedmar Super, Nabood |
| Fungicides | 19 | Lustre, Sixer, Vitavax Power, Kasu B, Cursor, Dhanteam, Sheathmar |
| Plant Growth Regulators | 9 | Dhanuvit, Wetcit, Dhanzyme Gold, Dhanzyme Granules |
New Product Launches to Accelerate Growth
Dhanuka Agritech has continuously added new products which has enabled it to capture emerging opportunities in domestic agrochemical market. During FY 2015, Dhanuka launched 5 new products in different categories and during the 9 month period ended FY 2016, the Company has already launched 4 new products.
The Company is expected to launch another 5-6 products in Q1 FY 2017. These new product launches will further strengthen Dhanuka's  portfolio of offerings, and profitability in the coming years.
Strong Financial Position
Dhanuka Agritech has shown consistent growth over the last 5 years (i.e. 2010-11 to 2014-15). For FY 2015, the Company's EBITDA increased by 9.97 % to Rs. 137.84 Cr. from Rs. 125.34 Cr. and PAT increased by 13.89 % to Rs. 106.08 Cr. from Rs. 93.14 Cr.
THE COMPANY OPERATES WITH ZERO DEBT.
Particulars (In Cr.)
FY 2013
FY 2014
FY 2015
Revenue
589.25
738.41
785.08
EBIDTA
88.84
125.34
137.89
PAT
64.45
93.14
106.13
Revenue Growth (%)
11.2%
26.1%
6.32%
Operating Profit Margin
15.1%
16.97%
17.56%
Net Profit Margin
10.9%
12.61%
13.52%
Financial Position of the Company (In Cr.)
Net Worth
262.77
332.49
411.38
Financial Ratios
ROCE
30.2%
34.3%
30.6%
ROW
24.5%
28.01%
25.8%
Strong Distribution Network
The Company enjoys a pan-India presence through a network of more than 8,600 distributors/dealers marketing to over 80,000 Indian retailers. In addition, the Company possesses more than 48 pan-India warehouses. The Company's widespread distribution network has encouraged MNCs to partner with the company.
The Company has technical collaboration with MNC giants like Dupont USA, FMC Corporation USA, Chemtura Agro Solutions USA, ORO Agri USA, Nissan Chemical Japan, Mitsui Chemicals Inc Japan, Sumitomo Chemical Japan and Hokko Chemical Japan.
Well Placed to Tap Fastest Growing Herbicides Segment
Over the last few years, the demand for herbicides has improved rapidly due to increase in labor cost after implementation of NREGA and MNREGA schemes which aims at enhancing the livelihood security of people in rural areas by fixing minimum wage per day for rural workers.
Dhanuka Agritech's strong presence in herbicides segment positions it well to tap emerging opportunities in this fastest growing segment. Out of Dhanuka's 82 product portfolio, 19 products are in the herbicide category. With demand growing rapidly, revenue contribution from herbicides has increased to 32% compared to 20 % in FY 2010.
WHAT'S DRAGGING THE STOCK
Significant Share of Non-Genuine Products
There is a significant share of non-genuine crop protection products which can be counterfeit, spurious, adulterated or sub-standard. Approximately 40% of the products sold in India are non-genuine. The damage through such products is multifold. Apart from crop loss and damage to soil fertility, use of non-genuine products leads to loss of revenue to farmers, agrochemical companies and government.
Slowdown in the Indian Agriculture Sector
Unlike Rallis, UPL, PI Industries which are involved into technical manufacturing and generate a portion of their revenue from exports, Dhanuka sell its formulations domestically and generates all of its revenues within India. Concentration of revenue only in the domestic market can have an impact on Dhanuka's growth potential if there is any slowdown in the domestic agriculture sector.
Dependency on Others for Technical Supply
Unlike many other players, Dhanuka is dependent on other players for the supply of active ingredients for its formulation products as the Company does not have any presence in technicals of manufacturing. This poses a risk of unavailability of raw materials or volatility in raw material prices which may have a negative impact on Company's revenue and profit margins and consequently on the price of its equity shares.
About Author