This article is based on a subscriber query on 'investment potential in Siti Cable Network'.
View: I have no views on this.
Siti Cable Network Limited ("Siti Cable" or the "Company") is one of India's leading Multi System Operator (MSO). The Company offers the following services:
Analog Cable – provides cable services in India's 250+ key cities. The cable TV signal is transmitted to subscribers through 7000 Local Cable Operators.
Digital Cable – Require installation of SITI Digital Set-Top-Box (STB).
Broadband – Access internet at comparable speed. This service is currently offered only in West Bengal & Delhi.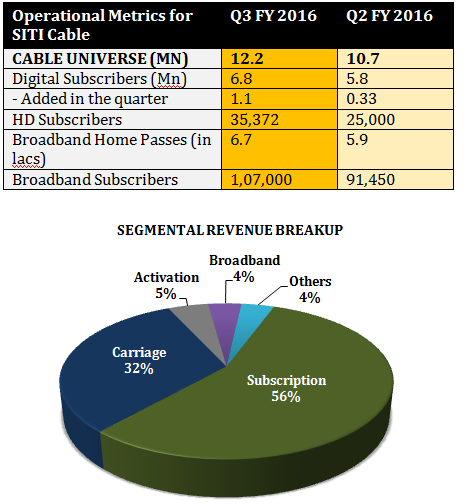 INVESTMENT RATIONALE
Broadband | Huge Opportunity FOR MSOs – Currently @ 4% (A Hopeful Game Changer)
The broadband business offers multiple synergistic benefits to MSOs by allowing them to leverage their existing infrastructure and consumer base. Broadband business offers higher average revenue per unit and margins than digital cable to MSOs. Given the low penetration of internet in India, the broadband segment is an attractive growth opportunity. To tap this opportunity, the Company is planning to expand broadband operations across pan India in the coming years to increase its current subscriber base significantly. Siti Cable currently offers broadband at speeds up to 100 Mbps on state of the art DOCSIS 2/3 Technology in Delhi/ NCR and West Bengal.
Fact – The top 3 Indian MSOs together have over 35 million subscriber base and going by many reports the addition in the overall subscriber base will be led by broadband which remains the fastest category for overall subscriber addition.
High Potential to Convert Existing Subscribers Base to Digital in 'Phase IV Digitization'
Siti Cable has strong headroom for digitization in phase III/IV of its existing customer base compared to its competitors.
| | | | |
| --- | --- | --- | --- |
| | Siti Cable | Hathway | Den |
| Total Subscriber (million) | 12.2 | 11.8 | 13.0 |
| Digital Subscriber (million) | 6.8 | 8.5 | 7.0 |
| Digital Subscriber (%) | 55% | 72% | 54% |
The Company's current digital subscriber base stands at 6.8 million out of total 12.2 million subscribers. In the upcoming phase III/IV of digitization, the Company has significant digital subscriber growth opportunity within its existing subscribers (5.4 million subscribers can be converted into digital subscribers)
Geographic Expansion
During Q3 FY 2016, Siti Cable expanded its footprint by entering into 100+ new markets in Andhra Pradesh, Telangana, West Bengal, Maharashtra, Karnataka, Madhya Pradesh, Bihar, Jharkhand, Chhattisgarh, Rajasthan, Uttrakhand, Uttar Pradesh & Haryana. With this expansion, the presence of SITI Cable has reached more than 250 cities across the country.
Further, the Company as part of its growth strategy has entered into strategic partnerships with regional MSO's in Maharashtra, Gujarat and Odisha for phase III/IV expansion.
Promoter Hiking Stake
On Feb 2016, Siti Cable has received fresh promoter funding amounting to Rs 530 Cr. Total promoter holdings in SITI Cable has now increased to 69.82%.
| | | | |
| --- | --- | --- | --- |
| Feb 2016 | Dec 2015 | Sep 2015 | June 2015 |
| 69.82 | 66.00 | 66.00 | 66.00 |
An increase in promoter stake is a strong reaffirmation by the insiders, who are the first recipient of any information and knowledge, that there is greater potential value in the business than what the market is paying for it.
INVESTMENT CONCERNS
BAD FINANCIAL POSITION
The Company is operating in losses for the last five years. For FY 2015, SITI has reported loss of Rs. 101.89 Cr. as compared to a loss of Rs. 83.34 Cr. in FY 2014. SITI also operates with huge debt and its debt/equity ratio stands at 5.38. The Company has not paid any dividend for the past many years.
THE COMPANY'S DEBT POSITION IS MORE THAN WORRYING.
| | | | |
| --- | --- | --- | --- |
| In Rs. Cr. | 2013 | 2014 | 2015 |
| Debt | 778.60 | 1,048.39 | 937.54 |
| Net Worth (Equity + Reserves) | -66.00 | 80.84 | 182.94 |
Intense Competition
The television distribution is highly competitive and is often subject to rapid and significant changes in the marketplace, technology and regulatory and legislative environments. Strongest cable competitors include Hathway, Den, and InCable. All three of these competitors have a presence in several cities across India. DTH companies that compete include TataSky, DishTV, Airtel Digital TV, Videocon D2H, Sun Direct TV and BIG TV.
In the broadband space also, the Company face competition from large telecom companies like Airtel, Vodafone, Tata Indicom.
About Author